Good reviews are the same as gold to an author, again my Monday is looking up. Monday is fast becoming my favourite day recently!
https://www.smashwords.com/books/view/329436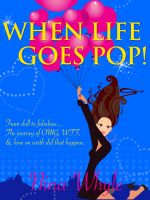 When Life Goes Pop!
Warning: This book contains flashing images of a sizzling sexual nature, one night stands, beautiful dresses, various lush locations, unbelievably handsome men, love, and true friendship.

Just as twenty-five year old Poppy Phillpot gets her life back into gear a mammoth spanner is thrown into the works - an unplanned pregnancy. But for the love of a patchy memory, who's the daddy?
Reviews
You are author of this book.
Review by:
Charlotte Foreman
on May 19, 2014 : (no rating)
Now this is a rom-com written with style. It is clear from the very start that the author is both intelligent and has a wicked personality and this all comes across perfectly in the very likeable protagonist, Poppy. This book would cheer just about anyone up, but I can see it connecting with graduates in their mid to late twenties especially. The words Monty Python and fuzzy duck should be enough to convince you of this!
The insight that Whyle offers into the film industry comes from clear experience, and combined with the drive of Paige, this book will reassure everyone that a dream career is within reach. And then there is the steamy sexual tension! Overall this is one of the best books I've read this year. It'll make you smile, get you hot under the collar and make you think. I found the ending a little too easy and predictable, not really in keeping with the rest of the book, but there's no denying that it is a happy ending!
Reviewed by Elizabeth Wright on behalf of BestChickLit.com.